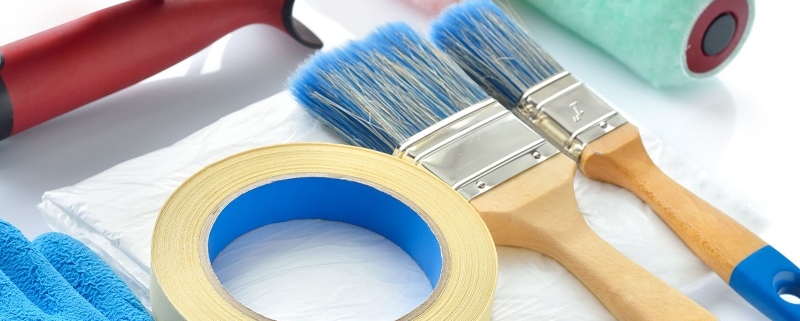 Necessary tools for painting the house: paint, brush, roller, etc.
Choosing the right painting tool ensures the best results when painting any space in the house. You have chosen the right color to paint your room, but you do not have accurate information about the necessary tools to do this job correctly. Here you will find all the information you need to do a painting project as well as possible, and at the end you will see the list of necessary tools for painting the interior of the house.
Necessary tools for surface preparation:
The importance of surface preparation in interior painting is undeniable. The desired surface must be dry, clean and without any damage before painting.
The tools you need for this:
To open switches and sockets
To cover baseboards, frames, uncovered or uncovered switches and sockets or any surface that needs to be protected from paint stains.
Spring lace and putty spatula:
To remove previously peeling or cracked paint and to apply putty on depressions, holes, cracks and other surfaces that need to be filled with putty.
For smoothing putty and uneven surfaces and cleaning stains or stains of previous paint.
To clean the surfaces on which sandpaper was used.
When you have prepared the desired surface well, you can start painting. Whether you use a roller or a pen and marker depends on the type of paint you want and the size of the surface you want.
Brush:
Although it takes more time to paint with a brush than with a roller, it is better to use a brush for painting cornices, windows and small surfaces.
Plastic or polyester brush: The best choice for latex (water-based) paints.
Natural hair brush: For oil paints, varnishes, shapain, stainless, epoxy paints and pool paint. This type of brush is not recommended for painting with water-based colors, because a brush with natural bristles absorbs water and this causes the bristles to bend or curl.
Brush size: Depending on the size of the desired surface, you can use a 0.5 inch, 1 inch, 1.5 inch, 2 inch, 2.5 inch, 3 inch, or 4 inch brush.
Roller:
Rollers speed up the painting process, but they can only be used for painting walls, ceilings and other flat and large surfaces. The roller is the best choice both for painting with water-based paints and for oil paints (glossy and semi-glossy).
Roller size: The standard size of the roller is 25 cm. For smaller surfaces, you can use 20 cm, 15 cm, 10 cm or 5 cm rollers.
This is the list of all the things, with which you can give your room a new color and look:
Brush and roller
Roller tray
Roller handle
Solvent or cleaner (to remove oil stains)
Cloth or cloth for cleaning
_Lise and spatula
_Wire brush
– Paper tape
-Screwdriver
– sandpaper
-Paper or plastic cover to protect surfaces from paint
https://meshkatpaint.com/wp-content/uploads/ابزار-لازم-رنگ-آمیزی-فضای-خانه.jpg
618
800
MeSHkaT330
https://meshkatpaint.com/wp-content/uploads/logo-meshkat2-1.png
MeSHkaT330
2016-09-13 08:29:46
2022-12-17 09:54:03
Necessary tools for painting the house: paint, brush, roller, etc.